Description
APP SUPPORT
The Bad GPS Pro+ meets all requirements under Apple's MFi program, and works great with any location-based app in the App Store. To simplify your search for great apps, we've categorized many apps that we know work well with the Bad Elf GPS Pro+ by your favorite activities.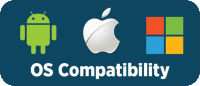 The GPS Pro+ works out of the box with all location services aware iOS apps. Apps that integrate the Bad Elf SDK can access the advanced features available for complete integration into your app on any platform. Bad Elf has begun working with several developers to support the GPS Pro+ directly.  If you have an app and would like to support the GPS Pro+, please visit our developer SDK page.
AFFORDABLE & SIMPLE TO USE.
At Bad Elf, we strive to create high quality, dependable products consistent with Apple's philosophy of "It just works!" Just turn on your Bad Elf GNSS Receiver and get to work. No complicated setup. Extra long battery life. No hassles.
GREAT PRODUCTS. WORLD-CLASS SERVICE.
Need assistance? Bad Elf works hard to provide world-class customer service. If you have questions or concerns, please ask us. We stand behind our products and want you to be a delighted customer.