Description
IPX4 certified, rugged, and splash-proof.  Don't be afraid to take your GPS Pro along on your next adventure. Compact, rugged, and splash-proof, the GPS Pro will survive the journey and then let you share with your friends your amazing trip. Works with all location-based apps.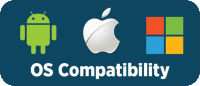 Apps galore. The Bad GPS Pro meets all requirements under Apple's MFi program, and works great with any location-based app in the App Store. To simplify your search for great apps, we've categorized many apps that we know work well with the Bad Elf GPS Pro by your favorite activities. We've tested the GPS Pro with all the major flight planning and aviation chart apps as well as many marine, fitness, car navigation, and golf apps.
Simple to use. Easy to enjoy.  At Bad Elf, we strive to create high quality, dependable products consistent with Apple's philosophy of "It just works!" Just turn on your Bad Elf GPS Pro and go play. No complicated setup. Extra long battery life. No hassles.
Great Products. World-Class Service.  Need assistance? Bad Elf works hard to provide world-class customer service. If you have questions or concerns, please ask us. We stand behind our products and want you to be a delighted customer.